Select a vehicle brand to service
Gli Specialisti Car Italiani
We pride ourselves being the #1 Italian Auto Repair Specialists in San Diego. Your car is one of your largest investments… So let us help you protect it. Customized scheduled maintenance can help extend the life of your car and prevent high-cost repairs. We understand how important your car is to you and we understand your car's needs. We can help you follow its factory-recommended maintenance schedule.
We're committed to the safety and reliability of your vehicle. Our expert technicians can recommend the right maintenance services to help prolong the life of your car and avoid costly repairs customized to your driving. Schedule an appointment and receive a complimentary inspection on your vehicle's condition by one of our master technicians.
San Diego Italian Auto Services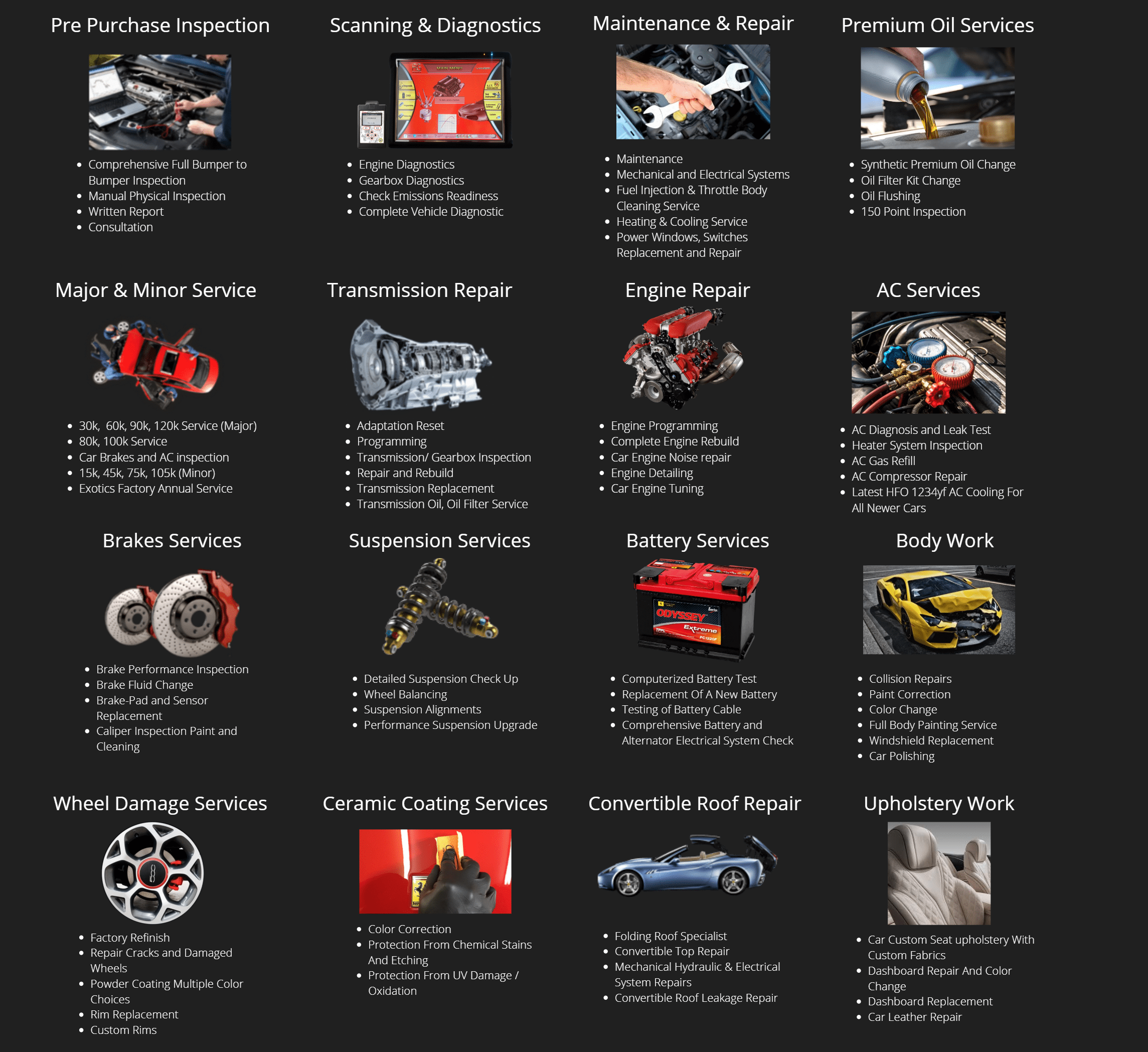 We Love What We Do & We Show It ...
Your questions and concerns about your Italian automobile will be handled with the utmost care and respect by our experienced friendly auto service advisors and technicians. Since our founding in 1989, we continue to positively represent our name with quality work and honest pricing through our different automotive services.
Italian Cars Services & Repaired
Classic
Itlaian Car Restoration
Wholesale Dealership Customer Repairs

Our Services
AC Service
Battery Replacement
Check Engine Light Maintenance
Engine Repairs
Fluid Checks & Changes
Oil Changes
Performance Upgrades & Tuning
Transmission Repairs
Wheel Alignment & Balancing
Auto Body Repairs
Brake Service & Repairs
Diagnostic Inspections
Factory Scheduled Service
Mileage Specific Maintenance
Preventative Maintenance
Suspension Services
Tire Rotations
About Us
Being the #1 Italian Auto Repair Specialists in San Diego, we have factory and top of the line equipment for your Italian vehicle. We offer high level servicing & maintenance on all top-end Italian models, such as Alfa Romeo, Ferrari, Lamborghini , Maserati and Fiat.



Select your Italian vehicle brand to service